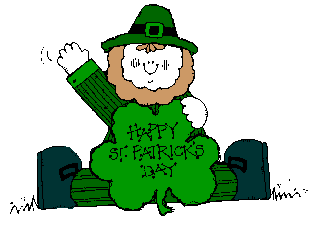 I can't believe it is the middle of March already?!? Where does the time go? Oh...I know--now that I am back at work, it goes to work and baby Logan (sorry honey). It really is a huge bummer to leave him every morning. I swear he grows an inch every day and when he looks at me when I finally get home, I wonder what he is thinking...mommy, is that you? (There are so many blondes in our family--mommy, mimi, nana, aunt carrie) Mommy, where have you been today? Mommy, why don't you change my diaper during the day? Seriously, how do mom's do it? I am having a hard time, for sure. The only comfort I have is that my mom (mimi) and Chad's mom (nana) are keeping Logan for us. We are so blessed to have parents who long to be with their grandkids.
Unfortunately,
green
isn't really Mr. Logan's color, so I will post some pictures of him in his UK outfit. He wore this on Sunday, hoping the CATS would pull out a victory--wishful thinking, but he looked so cute anyhow. Now, Miss Savannah Leigh McShane (just a tad Irish) on the other hand, looked so cute in
green
. I have posted a few pics her mommy took on Monday in her new St. Patty's Day shirt. Isn't she cute? I can't believe she is 2!! We celebrated her birthday last Friday night at Pump-It-Up. It was a blast, even for the adults, as you will see from the pictures.
Sweet baby boy in Kentucky Blue!! Go CATS!!
Looks like she is up to something, doesn't it?
Who is having more fun in this picture??

Watching Savannah open presents...


Miller loving the cupcakes!


Lastly, I have some news...GOOD NEWS! We recently found out that Logan will
legally
become our son on April 18, 2008. In our hearts, he has always been our son. Again, I feel like a broken record, but all of your thoughts, prayers, and support are so greatly appreciated. Keep 'em comin'!
Thank you all for reading our blog and commenting. Sarah F.--you know I am a HUGE fan of your blog and photos. Thanks for putting them out there for the world to see!! (see Sarah's photography blog at
http://sarafloydphotography.blogspot.com/
).
Oh...Annie, if you are reading this...pictures and update are in the mail. Thanks for the letter :-)
Until next time...
S~